Discover more from Let's Do Cake
Patti Friday: Why do lunch when we can do cake? A buffet of food stories, recipes, life + cake. I'm your 'Cake Beat Reporter'.
No. 3 SUNDAY VEG
A tray is a tray is a tray....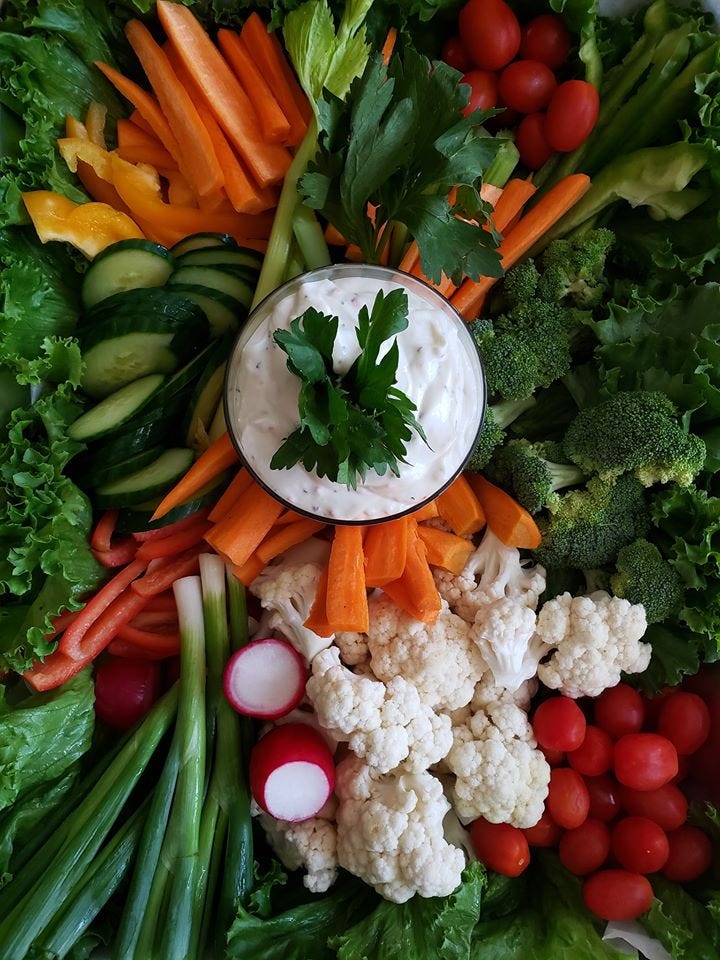 I literally could get lost on Instagram; deep, deep down the rabbit hole of vegetable trays and charcuterie boards. Now if you suspect you have gout, stay away from the platter of salted meats.
I pulled this simple selection together this morning for an afternoon (outside - physically distanced) gathering. I love the green green of green. Makes my gut tingle.
Did you know that the French word for a person who practices charcuterie is charcutier, which is generally translated as "pork butcher"? In today's world we call the thin slices cold cuts or luncheon/deli meats. All that ooey-gooey fats, nitrates and sodium does a body bad, but yes….I know you might love-love it. My Father is one of them.
Currently, we have crowned ourselves as 'Google Doctors' and have determined my Dad has gout. If you know my 'Pop' you know he eats bulk orders of wieners and bologna daily. He stirs his morning oatmeal with a cold, raw hot dog. Swear to GOD.
One night he got up at his usual 3 a.m. for a cold cut snack. He fumbles his way into the meat drawer; the dim fridge light his only way of navigating through the dark kitchen. He grabs a few slices of bologna then shimmy's back to bed.
The next morning (did I tell you I live with my elderly parents?) I woke up to make my usual pour over cup of coffee and noticed a slice of bologna stuck like a sticker to the kitchen cupboard door. Yes. I left it there. I wanted to see what would happen next.
A few hours later my Father arrived to make his own cup of joe and he saw the bologna 'sticker'. He shrugged his shoulders and removed (peeled) it off the cupboard. But did he throw it out? No. He ate it!
This in a nutshell describes my Dad. Waste not want not. Particularly when it comes to his precious deli meats. I for one will stick with vegetables (mostly) and if by chance I find a slice of cucumber stuck on the cabinet, I promise you, I will toss it in the food bin for compost.
Peace Love Create Art,
Patti xo
Reporting from The Food Dept inside the International Embassy of Ideas
Copyright 2020 Patti Friday b. 1959